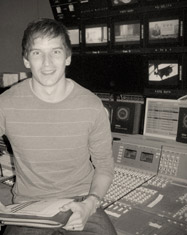 Thomas Dixon
Managing Director
Infinite Productions UK Ltd
Thomas has always had a fast thinking and logical approach to production and as a result has produced all of Infinite Productions' major projects since establishing the company in 2005.

He has a strong background in theatre production and event management coupled with first class production skills, having studied Film & Moving Image Production at Leeds Northern Film School where he specialised in producing.

During his time in the industry Thomas has worked across multiple genres including film, television, viral, corporate, music videos, documentary, and outside broadcasts. These have included number 1 box-office hit films, complicated studio and location shoots and producing the opening performance for the 2011 BAFTA Film Awards.

A large majority of his career and training has been spent with the BBC and as such he has worked with some of the UK's best-known television personalities and leading industry figures.

Thomas has over six years broadcast camera experience operating everything from Z1s up to studio cameras. Other technical roles he has mastered include Vision Mixer/Director (BBC), Gallery Sound and Vision Operator (Digital Channels), and Final Cut Pro Editor (BBC trained).

His ability as a producer is enhanced by his solid technical experience which gives him a unique insight into the film-making process and ability to see the bigger picture during a production. He instinctively recognises all that is required ahead of shoot, and pre-empts potential problems even before they occur.

Thomas has regularly been awarded significant project funding by respectable organisations and consistently produces exciting content. He was recently profiled by Northern Exposure Magazine in a feature called The New Breed about emerging creative talent in the industry and was flagged as 'one to watch'.